Features
On the ground at Agritechnica
Scenes and highlights from Germany's largest agriculture trade show.
February 14, 2020 by Chris McCullough
A number of new machines designed for working with manure were revealed at Agritechnica 2019, held Nov. 10-16 in Hanover, Germany. From slurry tankers to manure spreaders and more, the show left farmers pondering over the sheer size and technology involved in the new equipment.
With so many financial pressures on farmers these days, forking out bags of cash on new technology is an investment that needs serious scrutiny. However, with labour shortages across the sector becoming more common, the only solution to get the work done is via technology. That was one of the key messages that visitors took home with them when more than 450,000 farmers, contractors and machinery enthusiasts took in the many sights and sounds of the huge, week-long event.
Machinery manufacturers use the show to launch their latest innovations and technology that may or may not make it into full-scale commercial production someday. The world of agricultural machinery is changing rapidly in terms of engines, design, size and, of course, price, and exhibitors at Agritechnica were keen to highlight their new releases.
Some of the key focuses at Agritechnica 2019 included producing engines fuelled by alternatives to diesel, developing smart technology that is affordable to smaller farmers and increasing the use of autonomous vehicles. While the machines come from a plethora of countries and are manufactured for a huge number of uses, the one sentiment that connects them all is that smart farming should provide for a better future.
In total, 2,819 exhibitors from 53 countries exhibited their wares, with a number of joint ventures between competing brands surprising some of those in attendance. The end goal of developing a machine that is efficient and saves costs remains the primary focus for manufacturers, even if the guaranteed future of that machine is a good few years down the line.
German company Annaburger introduced its new Tridem slurry spreader HTS 34.28 Profi tanker, designed for agricultural contractors and large farms. The fibreglass trailer has a low dead weight and therefore offers a very high filling volume of 1,006.5 cubic feet (28.5 cubic metres). The chassis, with 90,390-pound (41,000 kilogram) BPW axles, can be fitted with size 750/60 R30.5 tires. The electronic forced steering in the first and third axles makes the vehicle particularly soil-conserving when it travels on arable land or turf. On the road, the cylindrical shape of the tank and the four integrated baffle plates reduce unwanted surging of the liquid. A particular benefit of the new HTS 34.28 slurry spreader is the option for rear-mounting a four-point suspension for a linkage weighing up to 9,921 lb. (4,500 kg) – for example, a 118 foot (36 m) wide Vogelsang dribble bar. The high-performance Vogelsang rotary piston pump system, with a capacity of up to 2377.5 gallons (9,000 litres) per minute, guarantees short filling times and large application volumes.
When it comes to spreading manure in large quantities, the Austrian-built Brantner TR34090 Power Push model is the answer. With a gross weight of 74,957 lb. (34,000 kg) and a deadweight of 22,267 lb. (10,100 kg), a payload between 1518.5 and 1730.4 cubic feet (43 and 49 cubic metres) is possible. An extremely strong chassis frame made of double C press profiles gives extra stability in the field and on the road. Sitting at 36 ft. (11 m) long and 9.8 ft. (3 m) wide with huge tires, this giant of a machine can shift manure in quantity. The distance between axles is 5.9 ft. (1.8 m) and the tire of choice is 560/60 R 22.5 Agri Radial Mitas 161 D.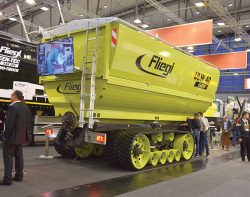 Fliegl's unique transport trailer caught the attention of visitors at the show with its tracked chassis. Not only does this trailer offer increased efficiency at harvest time, it also is less harmful to the ground with its new crawler technology. With 24 balancing rollers, a track width of 31.5 in. (800 mm) and a chassis height of 41 in. (1050 mm), the trailer protects the soil structure with increased traction. Within the Vario range there are six different models, from 706 to 1589 cubic foot (20 to 45 cubic metre) capacities with load discharges of around 22,000 lb. (10 tonnes) per minute. The Vario has width-adjustable side walls which can be reduced to 8.4 ft. (2.55 m) for road transport, extending to 9.8 ft. (3 m) for field work.
JCB added a new telescopic handler to its vast range at Agritechnica called the Loadall 532-60 AGRI. Key features on the new model include a joystick switch-controlled four-speed powershift transmission, the JCB EcoMAX four-cylinder 4.4-litre 109 hp engine and a 7,055 lb. (3,200 kg) lift capacity maximum to 20.3 ft. (6.2 m) full height or 3,086 lb. (1,400 kg) at 11 ft. (3.34 m) forward reach. Exhaust gases are cleaned using selective catalytic reduction (SCR) and a diesel oxidation catalyst (DOC) to meet Euro Stage IV/US Tier 4 Final emissions compliance. It can be specified on 20-inch tires to bring the machine's height down to just 7.9 ft. (2.4 m), from 8.2 ft. (2.49 m) on 24-inch tires, together with a slight reduction in overall width. Top speed on the 380/75 R20 tires is 20.5 m.p.h. (33 km/h) and the 460/70 R24 tires increase this to 25 m.p.h. (40 km/h).
The only gold medal awarded at this year's Agritechnica went to a joint effort by Joskin and John Deere for development in electric drives. The heavy weight manufacturers have introduced a system where two axles on a Tridem manure spreader are electrically driven by motors. The eAutoPower gearbox for the new 8R large tractors from John Deere represents the first electro-mechanical power split gearbox in agricultural technology. Two electric motors are used as a continuously variable actuator and are specified to not only supply the drive, but provide up to 100 kW of electric power for external consumption. On the tractor side, this electrical integration results in improved gearbox efficiencies and reduced maintenance costs. Used in combination with an axle drive on a manure spreader, this improves traction, reduces slip and improved track guidance on steep slopes.
With a 777 cubic foot (22 cubic metre) load, Rolland's new Rollforce 7322 manure spreader is the largest in the company's range. Its 5 ft. (1.55 m) high sides built from reinforced steel allow the spreader to be easily loaded. It runs on two axles that can either be fixed or steering. The length of 24 ft. (7.3 m) is optimal for large volume buckets, allowing for very fast loading. The braking system can be air, hydraulic or mixed and the drawbar can be adjustable or with springs. There are a number of optional extras that can be fitted to the Rollforce 7322, such as the DPAe electronic control unit, a proportional electronic feed rate that continuously adjusts the speed of the belt to the tractor speed to improve driver comfort and work precision, and also onboard weigh scales and a camera.
Samson launched its new TG slurry tanker range at Agritechnica, with capacities from 636 to 706.3 cubic feet (18 to 20 cubic metres) in the TG18 and TG20 models. The vacuum is only generated in the ejector pipe system and not in the entire slurry tanker, which helps to minimise the weight of the TG tankers. The ejector system can build a very high vacuum – under optimal conditions down to -0.9 bar – and has a filling capacity of up to 1585 gallons (6,000 litres) per minute. The Samson TG can have filling points via a hopper placed at the top of the tanker, via a hose with filling pump on the side of the tanker, via single- or double-articulated side arms, or via a front arm pump. Tankers can be equipped with a Samson hydraulic three-point hitch with a lifting capacity of 8,360 lb. (3.8 tonnes).
Dutch company Vervaet exhibited a five-wheel drive Hydro Trike at the show, which reduces soil compaction when spreading heavy loads of manure. The latest version has a driven mid-axle and is powered by a Paccar 530 hp engine. The extending drive axles offer 135 hp when fully extended, which aids the machine when travelling over wet ground and helps increase stability when working on slopes. The extra power is provided hydraulically by a 46-gallon (175-litre) per minute pump, with axles pushed out when in the field giving a full width of 14.8 ft. (4.5 m). There's also a new three-point suspension system to replace the leaf spring, with repositioned shock absorbers at the front of the axle. An inclination sensor, which detects whether the machine is on a side-hill, allows the system to automatically lock the suspension on the "down" side. Fitted with huge 1000/55 tires on the front and rear, and 750/50 tires on the extendable mid-axles, soil compaction is greatly reduced. The trike can reach its top speed of 25 m.p.h. (40 km/h) with the engine running at just 1200 rpm rather than at 1400 rpm.