If a higher minimum wage drives more farm owners to adopt automated milking technology, what does that mean in terms of long-term costs?
April 13, 2021 by Jim Timlick
One of newly elected U.S. President Joe Biden's first acts following his inauguration in January was to announce plans to raise the federal minimum wage to $15 an hour.
The proposal was not signed into order and it is still not yet known when, or even if, such a plan might take effect (some have speculated it could come into effect as late as 2025). Despite the as-yet-unknown factors, it has already generated plenty of discussion about what the implications could be for industry, including (but not limited to) the agricultural sector. And just as the discourse has prompted speculation about a rise in automated check-outs in grocery stores or touch-screen ordering at fast food establishments, some in the dairy industry have debated whether or not higher wages for workers could lead to more farmers taking an alternative route: investing in automated technology such as milking robots.
"Yes, I think that's a logical consideration," says Dale Beaty, director of member relations for Edge Dairy Farmer Cooperative, which represents about 850 Wisconsin dairy farmers and is part of the Dairy Business Association. He says there are many factors to weigh, beyond just hourly wages.
"When you're looking at robotic milkers one of the main areas you have to look at is your labour costs and, not only [that], but the scarcity of labour. We face that all the time, where there's not people beating down farmers' doors wanting to work at dairy farms. It's hard work, it's very labour intensive and it takes a special kind of person."
The tech offers some obvious appeal. It can reduce milking time by as much as three-quarters, meaning far less manual labour is required on the floor of a milking parlor. It can also significantly boost milk quality and production, while also promoting better health in dairy cows.
Upfront costs
Despite the obvious benefits of milking robots, that technology doesn't come cheap. A typical, box-style milking robot can cost as much as $150,000 to $200,000 per unit. Since each robot can milk about five dozen cows per day, a dairy farm with 240 cows would have to spend as much as $800,000 upfront on the machines alone.
Amber Yutzy, an educator with Penn State University Extension who specializes in dairy management techniques, says one of the most important considerations for farmers who may be considering using milking robots is whether or not their existing farming structures can be retrofitted to accommodate the machines. A new building can mean a greater payoff in terms of productivity but also significantly higher upfront costs. Another longer-term cost to consider, according to Yutzy, is software upgrades. Milking robots are constantly feeding data to a computer and require regular updates to ensure the free flow of all timely and relevant information.
"With a robot, it's technology, and technology is constantly changing. There's new software that's a constant expense," she says. "Most farmers will need people to come in and routinely service them. Just look at your iPhone. In the past five years, how many times has the iPhone [software] been upgraded?"
When a human touch is still needed
Although milking robots can dramatically reduce labour needs, Yutzy cautions that doesn't mean farmers don't need to have someone paying attention to their cows. If something goes wrong with a robot or a cow isn't entering the milking parlor, a human presence is still required to deal with the situation.
"Some people think, 'I won't have to deal with the cows now. I can go out into the field,'" she says. "But they quickly realize they are still needed in the barn with the cows. You had to be a good manager before the robots, and you continue to have to be a good manager after you have the robots."
Dale Beaty advises farmers who are considering adopting automated technology as part of their operation not to make any decisions in isolation. That means consulting with your financial advisor, veterinarian and even the person who helps serve up feed as part of the decision-making process.
"This is an entire system and transitioning to this system affects every part of the cow and every part of your operation," he says. "You have to make sure that you are looking at all of the variables that come along with making this kind of transition and making sure that it…works out for you. It's way too big of an investment not to."
Success with automation
Doug and Louisa Westendorp have been operating family owned Mooville Creamery in Nashville, Mich. for the past 30 years and employ about 40 full and part-time staff, including family. They began using milking robots at their Westvale-View Diary Farm about eight years ago in part because of increased demand for milk in their creamery operations. They upgraded to four new Lely Astronaut A5 robots about a year ago.
While there was a bit of an early learning curve, including getting the right nutrition mix for feed, Westendorp says he has no regrets about the decision to move to an automated milking system.
"They've been awesome," he says of the robots, which have helped increase milk production at his farm by 10 percent per cow each day. "They're just so efficient. It just changes your whole lifestyle. You don't have to be there at [3:00] in the morning to start milking."
Westendorp views his farm's milking robots as a long-term investment. In order to protect that investment, he says, farmers need to be prepared to budget for regular maintenance as part of their long-term costs to ensure the technology continues to operate properly.
"There's a fair amount of maintenance with the robots. You've got to keep everything working perfectly to make sure they're working right. Anything that's half worn out needs to be changed. The maintenance costs are higher with robots, but it's worth the extra effort," he explains.
Westendorp's advice to other dairy farmers who might be considering making a similar transition to automated technology is to make sure they choose the a who can provide them with the support they need. He also suggests talking to other area farmers who may already be using the same technology.
New skill sets
Although milking technology can translate into labour savings, it can also shift the way a dairy operation is managed. In addition to managing people, a farmer is now also managing technology. Beaty says farmers need to be comfortable with such a role or make sure they have someone on staff who is.
"A lot of it is automated, but there are challenges that arise and someone has to be there to handle and manage it," he says.
One of the biggest advantages with the technology is that it can provide all kinds of data at the click of a button, from how much milk is produced during a specific period of time to what kind of nutrients are contained in that milk.
That can also be one of the technology's biggest challenges, according to Ben Laine, a dairy analyst with Rabo AgriFinance. "One of the challenges for managers is to learn to use all of the new data that becomes available to them in a meaningful way," he explains. "You can get over 100 data points specific to each cow every time they walk through the machine. It can be important to not get overwhelmed by the data and instead make incremental changes."
Laine says an important spinoff of adopting this kind of technology is that it can serve as a means of attracting the next generation of dairy farmers by offering a more modern, data-driven farm.
There are numerous milking robots to choose from and choosing the robot that is right for your particular farm can be critical. Yutzy says that's why it's important for farmers to think about how they plan to use the technology before spending tens of thousands of dollars.
"I think as a farm manager you have to set your priorities on what's important to you and what are the tasks for you to complete and what's important that you can get a robot for and where that priority falls because every farm is different," she says.
Even though the cost may make some producers wary, Beaty says it's important for them to think not only about the impact it can have on their farm, but on also their personal life too.
"They're not required to be up at 3:00 to milk in the morning and then three hours in the afternoon. The robotic milkers give them an opportunity to get off the farm and go to their [child's] ball game and be [with] family more often."
So what exactly is a milking robot?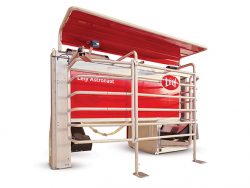 Contrary to what you might think, it doesn't resemble a cute, anthropomorphic butler from The Jetsons. It looks more like a long, metal arm with tubes and brushes that gently slides under the cow's udders. 
The milking process begins once the cow enters an area called the feeding box. A feeding system that can be pre-programmed to dispense up to five different types of food helps to entice the cow to enter the box. Food rationing is determined by milk production and the lactation phase of the cow.
Sensors instantly recognize the cow as soon as it enters the feeding box by way of an ID tag on her collar and help inform the robot of the exact position of the teats. Teat cups are then placed on the cow's udders and a vacuum system is then used to gently withdraw milk and pump it into a storage take.
Milk is monitored by the machine throughout the milking process to ensure the quality of the milk. In addition, health issues can be spotted at an early stage thanks to pre-set parameters and an electronic warning can be issued if a problem is detected.
Once the milking process is completed, the feeding box swivels away and the cow is free to leave.