News
Versatility and Efficiency with New Leader's NL600
October 3, 2022
Sponsored by New Leader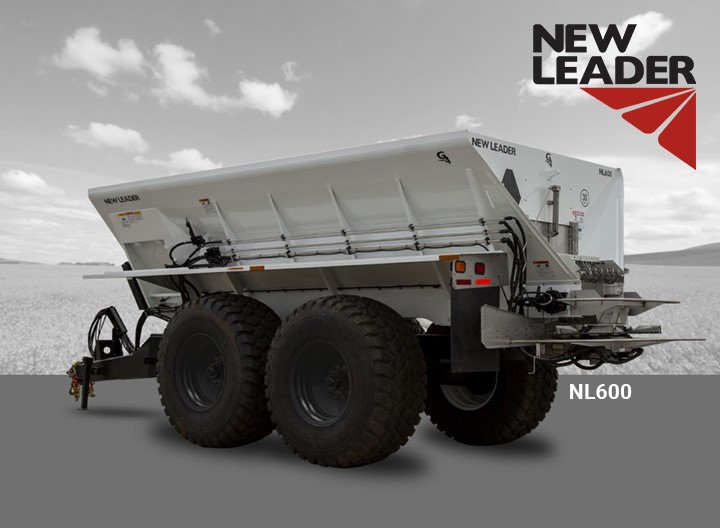 More profit for less time is possible with New Leader's line of compost spreaders, including the new NL600. This multi-season, multi-use spreader is equipped with the G4 spinner technology that has been field tested and proven for years. With a max load of 55,000 lbs, the NL600 can manage larger payloads which reduces the number of refills, maximizing efficiency for growers and applicators.
"Being able to spread almost as many acres with one machine as we did with two, it's incredible," says McCracken Farm Service in Texas. "It all comes down to productivity and the NL600 couldn't be more impressive."
At 600 cu. ft. capacity, the NL600 is built for durability and versatility, giving operators the power to cover more ground faster, while maintaining an accurate spread pattern. The variable rate technology allows operators to apply at different rates across the field for the highest level of precision.
The NL600 has three times the throughput as leading competitive spreaders, aggressive 50º side slopes, and a 34" bar chain conveyor to assist with product flow at any rate. To extend the machine's life and resist corrosion, 304 stainless steel can be found on the bottom panel, spinner fins, and chain shield.
"Besides the spreader itself, our New Leader territory specialist went above and beyond to make sure we were completely satisfied with our purchase. The New Leader team as a whole just keeps pushing the limits of perfection," McCracken Farm Service says. With the highest-quality service team in the industry, New Leader is always there. The service and parts departments are always available and ready to answer questions, troubleshoot, and go above and beyond to keep you going and minimize your downtime. There is no time for downtime.
To learn more about the NL600 or to inquire about a demo near you, visit www.newleader.com/product/NL600.