December 17, 2012 by Iowa Department of Natural Resources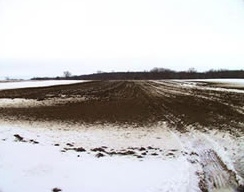 December 17, 2012, Des Moines, IA – Most animal and crop producers know there is greater potential for runoff and nutrient loss following winter manure application. State law, however, sets some dates when producers with confinements can – and can't – apply liquid manure on snow-covered or frozen ground.
The law does not apply to manure from open feedlots or dry manure, or in the case of emergencies.
It does apply to confinement (totally roofed) facilities with liquid manure that have 500 or more animal units. Generally, 500 animal units would be 1,250 finishing hogs; 5,000 nursery pigs; 500 steers, immature dairy cows or other cattle; or 357 mature dairy cows.
"The research shows that the later in the season and the closer to spring snowmelt that you land apply manure, the greater the risk that manure-laden runoff will reach a stream," said Gene Tinker, coordinator of the Iowa Department of Natural Resource's animal feeding operations.
"In winter, it's particularly important to use common sense and choose areas far from a stream, on flat land with little snow cover," Tinker said. "Because this is surface application, the manure applicator must follow setbacks from certain buildings and environmentally sensitive areas."
The law limits liquid manure application from Dec. 21 to April 1 if the ground is snow-covered. If manure can be properly injected or incorporated, it can be land applied during this time. Snow-covered ground is defined as soil having one inch or more of snow cover or one-half inch or more of ice cover.
Starting Feb. 1, confinement producers with 500 or more animal units will also be limited to emergencies if applying liquid manure on frozen ground. The rules are available online under Chapter 65 of the Iowa Administrative Code/Environmental Protection Commission.
Emergencies are defined by state law as unforeseen circumstances beyond the control of the producer such as natural disaster, unusual weather conditions, or equipment or structural failure.
Producers must call the local DNR field office before they apply to report emergency applications. They can apply manure only to fields identified for emergency application in the manure management plan that have a Phosphorus Index of 2 or less. DNR field specialists may have ideas or suggestions for producers on specific sites or risks. Field office locations and phone numbers are available at www.iowadnr.gov/InsideDNR/DNRStaffOffices/EnvironmentalFieldOffices.aspx.
More information on the protected areas is available at www.iowadnr.gov/portals/idnr/uploads/afo/sepdstb4.pdf.
Recommendations from the Iowa Manure Management Action Group about applying manure in winter are available at www.agronext.iastate.edu/immag/pubs/imms/vol3.pdf.