November 15, 2012 by Press release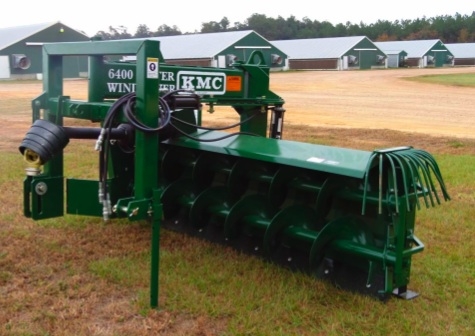 November 15, 2012 – It was announced recently that Kelley Manufacturing had won a 2013 AE50 Award for its KMC 6400 Litter Windrower.
The KMC 6400 litter windrower forms windrows for composting bedding material in poultry houses, inverts the windrows, and spreads the bedding material for the next flock. Operators realize greater than 30 percent reduction in work time.
The KMC 6400 is PTO powered to maximize horsepower transfer from the tractor. Blade angle and position are adjustable with hydraulic cylinders. Hydraulic rear gauge wheels adjust the blade height, preventing floor gouging and allowing an even spread of litter. A floating hitch link keeps the blade parallel to the floor. The dual overlapping auger system has a rotation direction that reduces the dust thrown toward the operator and discharges material into the windrow instead of pushing it forward.
A discharge grill and chopper blade system breaks up large clumps of litter, releasing trapped ammonia and homogenizing moisture for more uniform composting.
The AE50 Awards are presented annually by the American Society of Agricultural and Biological Engineers in recognition of that year's product innovations in the areas of agricultural, food, and biological systems.