November 15, 2012 by Press release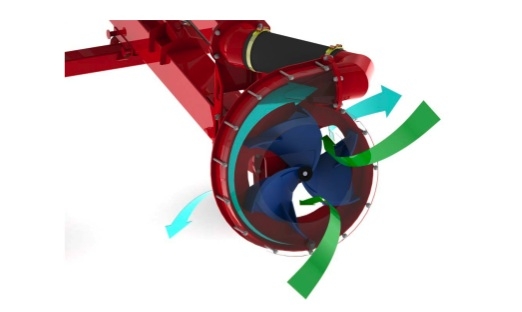 November 15, 2012 – It was recently announced that Jamesway Farm Equipment's Pumpeller hybrid manure pump is one of several manure application and handling technologies that earned a 2013 AE50 Award.
The Pumpeller turbine integrates a propeller mixer in the center of a volute pump. The resulting hybrid ingests and homogenizes even the most difficult manure solids while taking less time and fuel.
The turbine produces two outputs simultaneously: a high-pressure cannon discharge and a high-volume propeller wash. Manure is actively pushed into the impeller blades around the outer edge of the turbine by the outward flow from the propeller core, providing improved cannon and load out performance in thicker slurry.
The turbine housing features large openings in the back wall that permit the excess flow exiting the propeller core to travel straight through the housing. The combined discharges of the cannon and the propeller create a high suction at the turbine inlet that pulls solids toward the pump.
The Pumpeller homogenizes solids as they pass through the turbine instead of relying on the cannon jet pressure or an external propeller.
The AE50 Awards are presented annually by the American Society of Agricultural and Biological Engineers in recognition of that year's product innovations in the areas of agricultural, food, and biological systems.