September 27, 2013 by Press release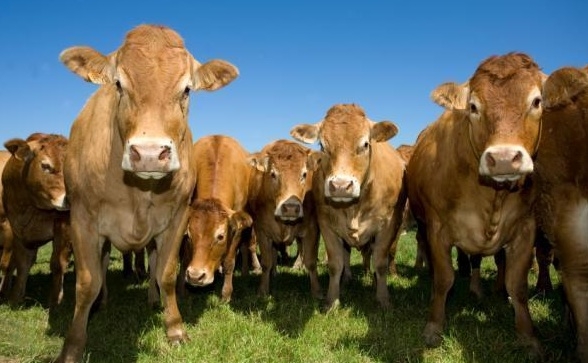 September 26, 2013, Calgary, Alta – At a time when everything from credits and offsets to environmental footprints are making news and creating new expectations for livestock production, a new tool has emerged to help Canadian dairy and beef producers and their industries drive progress and find solutions.
Researchers at Agriculture and Agri-Food Canada (AAFC) have conducted major life cycle assessments for greenhouse gas (GHG) emissions from dairy and beef production in Canada. These developments set the stage for a much better understanding of what Canada's dairy and beef sectors contribute to GHG emissions and what can be done to minimize those emissions while upholding productive and competitive industries. A key part of both assessments is use of the innovative Holos modeling software program developed by AAFC.
"Greenhouse gas emissions have become one of the most challenging and high profile issues facing livestock production globally, and dairy and beef production have an important role," says Dr. Karen Beauchemin of AAFC Lethbridge, a lead researcher in the effort. "The assessments give us a clear idea of where we are today. They will allow us to develop improved strategies that can help minimize emissions while protecting the high production levels required to meet the demands of feeding a growing world."
The dairy life cycle assessment for Canada is one of the most sophisticated approaches of its kind completed to date anywhere, says Dr. Emma McGeough of AAFC Lethbridge, another lead researcher involved.
"It gives us a very strong knowledge base to work from," she said. "The priority is to find approaches that make sense and work well for industry as well as from a GHG perspective. The good news is we are finding that the benefits on both sides often come down to efficiency. If we can find ways to improve dairy production efficiency to reduce GHG emissions, often there are productivity and economic advantages as well."
The results of the dairy assessment show three types of GHG emissions related to dairy farms. Methane accounts for 58 percent of emissions, nitrous oxide makes up 39 percent of emissions and carbon dioxide comprises the remaining three percent of emissions. Key opportunities to mitigate emissions include strategies focused on nutrition, nitrogen efficiency and reproductive management, along with support for continued research to harvest knowledge toward solutions.
The beef life cycle assessment is the first-of-its kind for GHG emissions from beef production in Canada.
"The issue of GHG emissions has been particularly challenging for the beef industry in part because of the multiple production levels and different approaches that exist within the beef sector," says Dr. Beauchemin. "With the assessment in place, the focus as we look further at mitigation opportunities is finding ways to reduce emissions that also have economic benefits or other advantages for the producers. We're encouraged that the findings show the Canadian beef sector is already highly efficient and there is good potential for further improvements that fit this win-win scenario.
"The results of the beef assessment show several types of GHG emissions related to beef production. Enteric methane accounts for 63 percent of emissions, while nitrous oxide from manure makes up 23 percent. Other emissions include methane from manure at five percent, carbon dioxide from energy use at five percent and nitrous oxide from soil at four percent.
Perhaps most eye opening were the results comparing emissions from the different life cycle stages of beef production. The cow-calf component of the life cycle – which comprised the cows and bulls in the system during the period they are producing calves – accounted for 61 percent of emissions.
A series of articles highlighting the science and progress related to Holos, GHGs and farming is now available in a Special Science Report featured on the Meristem Land and Science website.