June 1, 2021 by Bree Rody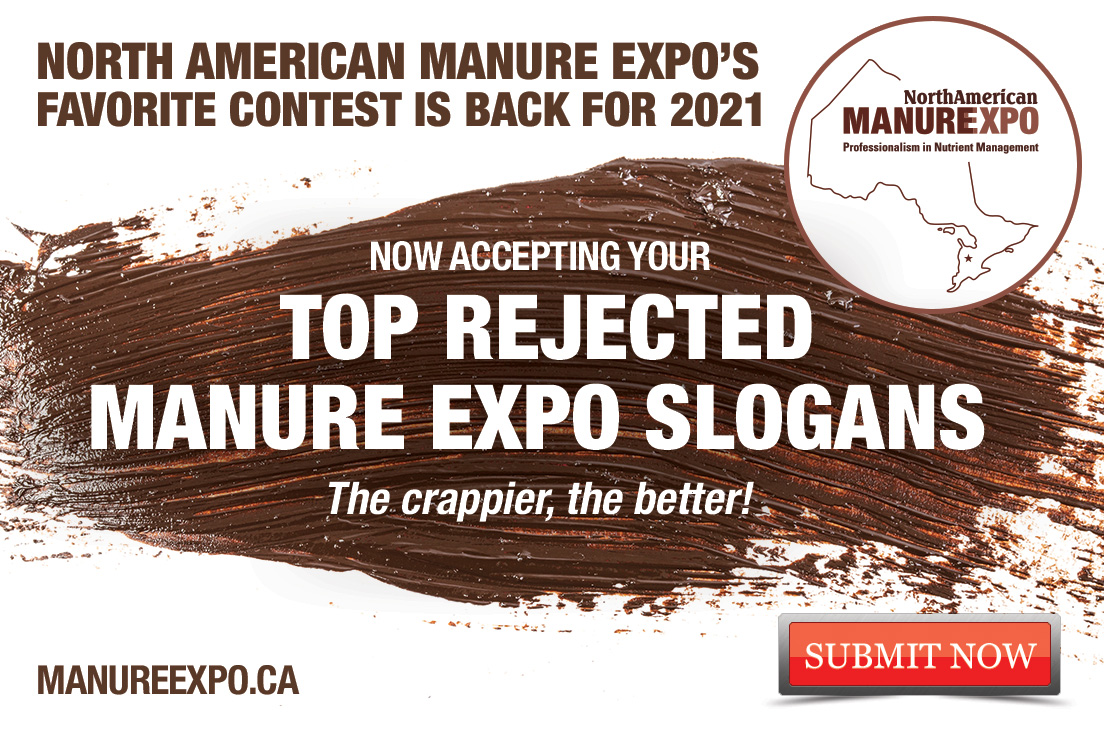 The North American Manure Expo might look a little different this year since we've pivoted to a virtual event, but some big fan favorites will return – including the annual slogan contest.
Officials with the 2021 North American Manure Expo – held Aug. 23-26 online – have begun accepting submissions for this year's Top 10 Rejected Manure Expo Slogans.
Slogans are being collected now through July 10. You can submit yours here. Submissions are being collected between now and July 10. Voting for the Top 10 slogans will open July 12 and run through to July 31.
In August, our teams will whittle down the top selections – and while we won't be in person to hand out T-shirts this year, our Top 3 finishers will receive a small custom gift with their slogan suggestion.
The "Top 10 Rejected Manure Expo Slogans" contest has become an Expo highlight since 2015. During that initial T-shirt slogan contest, more than 750 manure-themed messages were collected from participants all over the world.
To help inspire, here are some of the top slogans from past Crappy T-shirt Contests:
NOBODY sticks their nose in our business
Immerse yourself
Where no one stands behind their product
You provide the creek, we provide the paddle
Rated M for manure
You name the species – we've got the feces
Nature called – it wants its nutrients back
Our grass is always greener
Be part of the movement
The incredible spreadable
Poopapalooza
The future of what's left behind
For more information on the contest and event, visit: www.manuremanager.com/manure-expo/